Skip-A-Pay is Back!
Summer is right around the corner, so dive into the sun and fun with our popular Skip-A-Pay promotion! You can skip your loan payment with us (June and July only) and use those savings to take a summer trip to paradise, stock up on your favorite grilling items, or set aside for retirement! The choice is yours!
New this year: apply for Skip-A-Pay through online or mobile banking! We are aware of members having issues with requesting their skip though online/mobile banking and are working with our online banking provider to fix the issue. You can still request your skip by coming into a branch or calling 260.432.1561 and selecting option 5 for our Digital Services department. We apologize for the inconvenience. 
Or you can fill out the form and bring/mail the completed form to a branch.
It is your responsibility to cancel or postpone any automated loan payment you currently have scheduled to be paid during your elected Skip-A-Pay month. You can cancel/postpone any automated loan payment through online/mobile banking. You can only skip one loan payment per loan during the Skip-A-Pay promotion.
For more information, call us at 260.432.1561 or stop by one of our branches.
*Excludes credit cards, real estate loans, loans less than six months old and any past-due loans. SureFire auto loans are eligible for one Skip-A-Pay each calendar year. $35 service fee per loan. Valid June-July 2023 and November-December 2023.
Ways to Request Your Skip
Option 1: You can enable Skip-A-Pay through online or mobile banking.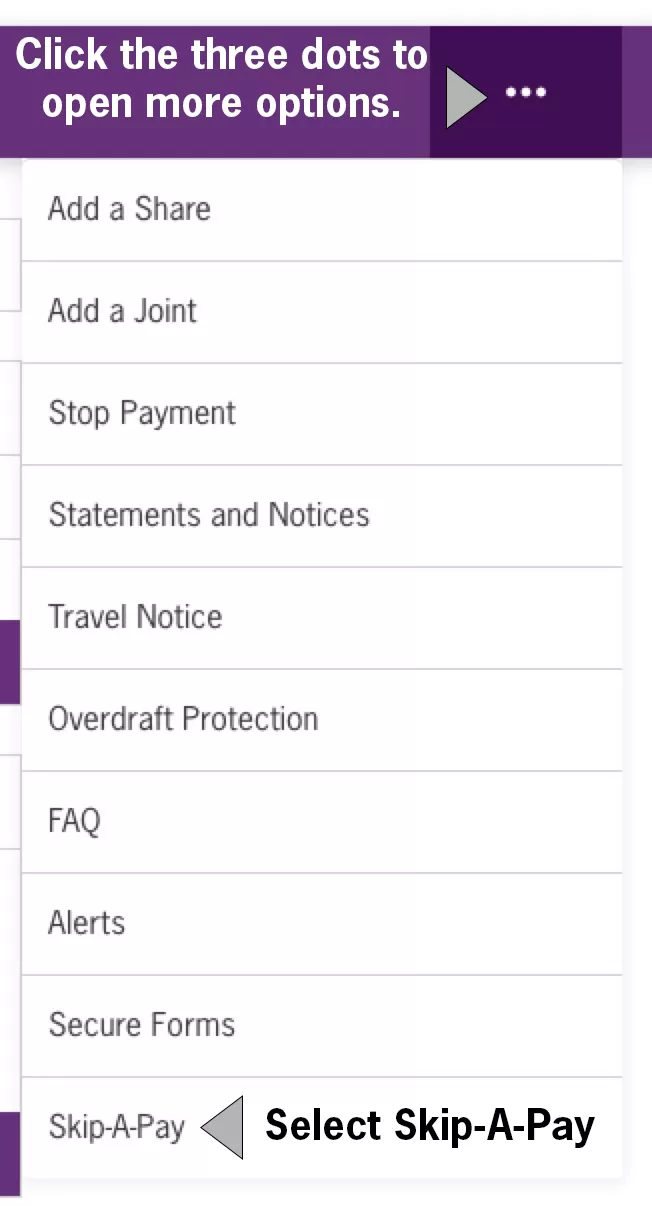 Select your loan(s) you would like to skip and submit.