Coming Soon: Online and Mobile Banking Upgrade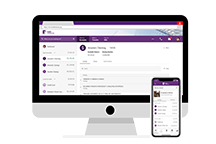 Next month, we'll introduce an upgrade to our online and mobile banking services to give you easier access, expanded features and greater control of your finances.
The upgrade will keep the functions you've come to expect, such as remote check deposit, Picture Pay and person-to-person payments. It will also introduce some new features that we think you'll enjoy, including member-to-member transfers, expanded alerts and debit and credit card controls.
Beginning Tuesday, August 24th, iPhone users will see a different look to the mobile banking app with these new features. Android users will have to download a new mobile banking app to install the upgrade. Online banking will be updated at that same time.
From now until the upgrade is complete, Visa credit card payments cannot be scheduled on the Access Point credit card portal within online and mobile banking beyond Monday, August 23rd. Other bill payments scheduled within online and mobile banking will process as scheduled.
In order to not miss any news and ensure a smooth sign in to the upgraded online and mobile banking systems, please make sure your contact information is up to date with us, including your email address and phone number(s).
If you have any questions, please contact us at (260) 432-1561 or stop by your nearest Fort Financial branch location.